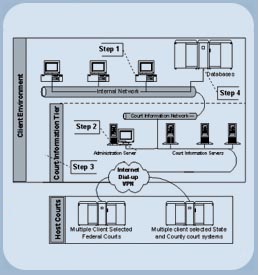 CourtTrax court servers utilize the WideNetSearch™ technology to interface with the various court servers to access and effectively search the electronic court records. Learn more.

CourtTrax services are 100% Web-based and utilize CourtTrax developed and copyrighted Graphical User Interfaces (GUIs), which are based on maps showing the court jurisdictions, thereby minimizing key strokes for search specifications, and are intuitive to enable the user to easily select specific courts.
The CourtTrax Web Services utilize specialized search software, I-Tap, for XML to XML applications, interfacing with the client's own in-house software systems and enabling CourtTrax to filter raw data so that the client only receives the required information. Other features include a search and resume facility; the ability to store reports for later; and other value added online features, providing increased efficiencies to our customers' operations.
CourtTrax uses second generation Representational State Transfer (REST) technology to implement its I-Tap Web Services. REST is a software architectural style for distributed systems, as a simple interface using XML over HTTP without an additional messaging layer(s). In addition to its ease-of-use, REST provides improved response times and server loading characteristics, improved server scalability, less client-side and vendor software, and provides better long-term compatibility and evolvability characteristics. REST technology is currently used by industry leaders such as Amazon.com, Ebay, Yahoo, and FaceBook, and others to automate information exchange with their business partners.
CourtTrax REST technologies allow high-volume customers to quickly and efficiently search, retrieve, and integrate CourtTrax's court information into their downstream business processes.
_____________
CourtTrax's search engine, intuitive and easy to use interfaces, market leading usability features and three-tier architecture are all copyrighted. The WideNetSearch. technology is trademarked but with the patent application under review.